I am going to be brutally honest- this sucked (at first)! I can't imagine how miserable one might be if they started this while they were eating a SAD (Standard American Diet). Luckily, I was already primal and was only hooked on natural sugars, fruits and dairy. Here is a little synopsis of my week with no sugar. I promise it is only 2 days that were bad- I am guessing they were my days of full detox.
Day 1: I was on an encouragement high and felt excited to start. I didn't crave sugar, dairy or sweets at all and this was an easy day.
Breakfast: I got up early and made eggs with chicken, avocado, tomato and peppers.

I sipped on decaf coffee throughout my morning.

Lunch: a huge salad with lots of veggies and sunflower seeds

Snacked on some cashews and almonds

Dinner: Grilled Chicken and sauteed carrots
Day 2: I was okay until a kid brought me some chocolates- he walked out of the room and I ran to them and threw them in the trash shouting AWAY TEMPTATION AWAY! I wasn't too upset or mad about not eating the junk food. I was actually still feeling pretty good
Breakfast: Eggs and tomato with my decaf coffee

Lunch: Grilled chicken breast, Broccoli and a tomato/cucumber salad with balsamic vinegar

Snacked on some carrots or nuts in the mid afternoon

Dinner: We had dinner with friends and they cooked us some Korean Beef Lettuce wraps, Salmon, green beans and squash medley. All approved-they were so thoughtful to ask about our eating before they cooked. They even left the seasoning off of our salmon since it had sugar in it.
I brought fruit and dark chocolate for dessert- Brandon and our friends enjoyed that while I sipped my water. I was so stuffed from dinner that I didn't even mind.
Day 3: I knew I was going to have my first real challenge today- Happy Hour with my girls. Today was another fairly easy day but after my crappy dinner I wanted to come home for some Coconut ice cream or chocolate bar.
Breakfast: 2 hard boiled eggs and a glass of Unsweetened ice tea with lemon

Lunch: A huge salad with fresh turkey, Egg, Avocado, tomato and green peppers.

Dinner: We ate at this not so good for paleo on a budget restaurant called "Season 52". It had terrible service and was overpriced. I mis-read the menu and ordered a flat bread (thinking it was a sandwich I could just take the bread off.) I basically paid $20 for 8 bite size chicken pieces some red peppers and onion.
Needless to say I was starving and this started my downhill trek on this detox. Going to bed hungry!! I don't recommend this because I didn't sleep well and my stomach was growling.
Day 4: I was tired and had a headache. I was very low on energy and extremely agitated (SORRY BRANDON!)
Breakfast: Sugar Free "nut"ola cereal with Almond Milk with I ran out of decaf coffee and had to just drink water.

Lunch: Big salad full of veggies and pepperoni.

Dinner: I was so angry about my previous nights meal that I decided to make my own paleo version. I made a nice flat bread and topped it with chicken, parsley, balsamic red peppers and onions. It was so good and my attitude improved after dinner.
After dinner Brandon cut up this huge yummy pineapple and that made me a little bitter so I just went to bed.
Day 5: The worst of all the days. I was feverish, achy, depressed and just an unpleasant person to be around. I did go to a little happy hour at Dogfish with some friends but I had a glass of water while we vented about our work week and I left before the shots started.
Breakfast: I had loss of appetite and decided to just nibble on some almonds and cashews and I treated myself to a coffee on my way to school.

Lunch: Broccoli, chicken breast and a little garden salad

Dinner: Because I was so grumpy, Brandon surprised me while I laid on the couch miserable with a sweetener free, dairy free dinner. He used

this recipe

 minus the cheese and added a seasoned venison and tomato on mine. He called them Mini- Burgers and they were awesome and filling. 
Day 6: Another bad day but not due to sugar. I woke up feeling great, no cravings and ready for my 5k with Brandon. Turns out I should have gone to a physical therapist and I shouldn't have tried to fix my knee myself. This was a hill filled course and my knee got injured even more. I had trouble running and really wanted to quit. Surprisingly my time was still under 30min and Brandon even got 3rd place for his division. The rest of the day I spent icing and elevating my knee. I did a little gardening and yard work but it was hard to move around.
Pre-Race: I had a some nuts and water and a bite of an Thunderbird energy bar (did have dates but no other sweeteners)
Breakfast: Giant 3 egg omelet with Venison, peppers, onions, tomato and guacamole

We had a late breakfast so I just had some carrots and veggies in the afternoon when I felt hungry.

Appetizer: We had an engagement party for my friends Kendayl and Mike. She is gluten free so I knew this would be a somewhat safe party. It was awesome meat on a stick, veggies and lots of water.

Dinner: After the party Brandon and I were both still a little hungry so we walked over to Sweet Green for a salad and a beautiful evening walk in Reston town center.
I didn't feel tempted by alcohol and actually realized that I didn't feel like I was missing out on anything by not drinking. I would have downed a few glasses of wine in the past. Besides my knee, I could feel my body getting settled into the no sugar, no dairy and no fruit. I was drinking a lot more water and I noticed I was using the bathroom more- probably not retaining all that water or substituting fruit for my water intake.
Day 7: I woke up feeling refreshed and happy just like Saturday morning. I wasn't starving but knew I needed some energy because I was going to be at church from 8:00-12 without food.
Breakfast: I made myself a smoothie with some nut butter, coffee and Coconut milk. This did the trick and I was fine without food until about 1:30.

Lunch: I made a Fajita Salad with venison, chicken, sauteed peppers and onions and fresh salsa and guacamole.
We spent the whole day at the pool and we swam and played and got some wonderful Vitamin D sunshine. I felt pretty good in my swimsuit because all the bloating is starting to go away. We took some water, carrots and macadamia nuts to snack on. After the pool we did a little shopping for clothes and food and realized it was 8:30 and we were finally getting hungry.
Dinner: BGR joint burgers, asparagus fries (for Brandon) and Sweet potato fries (for me)  
Day 8: I am feeling fantastic! I woke up refreshed and energized. I got up early again and felt so prepared and organized. My thoughts were clear and I was able to make it through my day without craving any sweets. My body feels clean and healthy.
Breakfast: Scrambled eggs with Guacamole

Lunch: Big salad with turkey and lots of veggies- no dressing

Snack: carrots and nuts

Dinner: Bacon and Fried Eggs made by my wonderful husband.
While my body feels great and I have energy, my leg is in a lot of pain after working all day. I made my first Physical Therapy appointment for tomorrow at 5:45. I am not looking forward to it but I realize I need to take care of my body so I can continue staying active. I HATE sitting around when my body just wants to go go go.
So it was a hard week but I had tons of encouragement from readers, family, friends and my amazing husband. My body feels great and I am ready to continue another week of a Sugar free, Dairy free and Fruit free diet. Reflecting on my week, I ate a lot of eggs and chicken. This week I am going to incorporate some more smoothies, tuna, fish and venison in my diet. I didn't feel bored with the foods I was eating these 8 days because it was yummy but 21 days of the same and I would give up.
Here are a few photos of some of our yummy meals. Enjoy and if you are addicted to sugar- keep following for the next few days to see what this experience has taught me. I think paleo, primal or SAD- you should try this.
This weeks goal is sleep. Sleep is just as important as the food you are putting in. I am trying for 7 hours a night!
Brandon's cheesy venison omelet- I would have had this but cheese doesn't settle with me.
My veggie filled omelet- so good and I didn't miss the cheese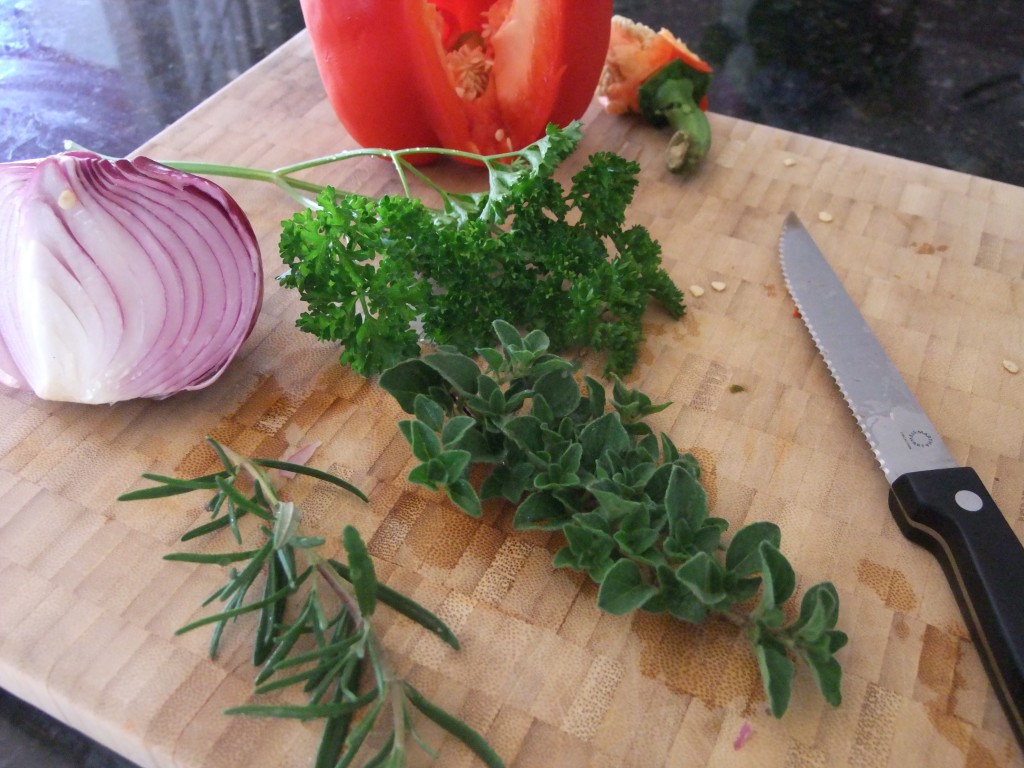 Fresh hebs from my Garden and flat bread chicken triangles
Pasta sauce option
Brandon's mini- burger creations