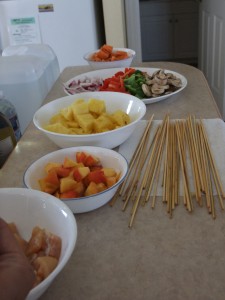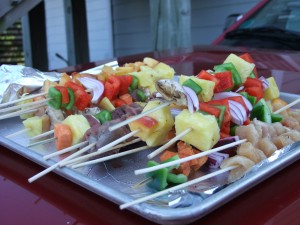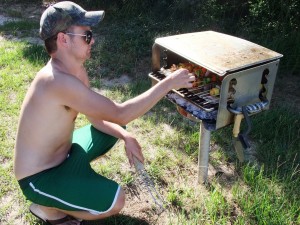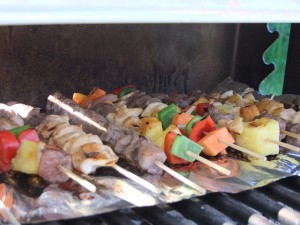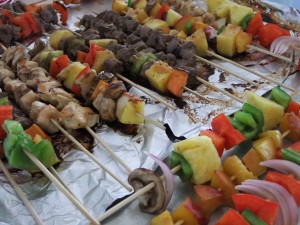 This was a great dinner for all types of diets. You could do vegetarian sticks, all meat sticks or a variety of veggie, meat and fruit.  Since we are in OBX, we have a lot of access to farm fresh local veggies and fruits. For our kabob's  this weekend we used the following foods:
Marinated venison (soaked for 2 days in coconut aminos, honey, salt, pepper and garlic).
Marinated chicken (soaked in  olive oil, salt, pepper and hickory seasoning).
Green and Red peppers
Red Onion
Mushrooms
Pineapple
Peaches
We served them with a side of salsa and corn chips for our non Paleo family members and Fresh local fruit salad. The best thing to do is have plenty of options so that there is something for everyone.
*A key note- Sweet potato takes  a long time- My suggestion is to put them in tin foil and throw them in the coals while the skewers are cooking. Then when you serve the kabob, you can let people stab at the potato last.*
These were fun to make and fun to eat! We finished our night with some paddle boarding on the sound at sunset and a bonfire on the beach  and a bonfire with primal smores.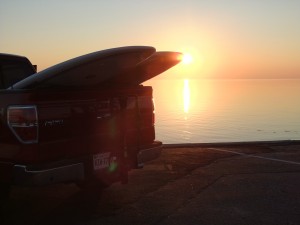 Graham Crackers recipe from Paleo parents, 82% Dark Chocolate and Homemade Marshmallow recipe from Mommypotamus.