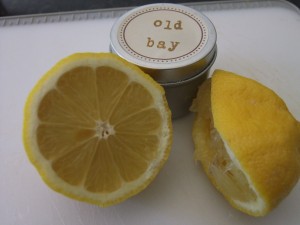 Brandon's birthday usually consists of Steak, Potatoes, Ice Cold Pepsi, Caravel Ice Cream Cake or Cheesecake factory cheesecake. This year things are slightly different! He is currently taking some College Classes to learn more about Computer nerd stuff for his job. Tonight he had a class (lame way to celebrate a birthday but much better than last years Birthday Mountain biking accident extravaganza!!) I was on a time crunch so I had to make a quick and easy meal to celebrate his 26 years. Brandon's Birthday Menu
Grilled Old Bay and Lemon Haddock
Bacon Wrapped Asparagus
Unsweetened Tea
Homemade Ice Cream Cake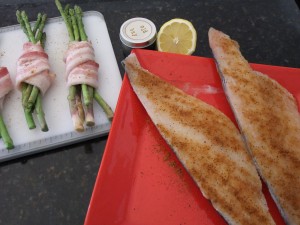 Grilled Old Bay and Lemon Haddock
Ingredients: 
2 Haddock Fillets
1 Tbsp. Old Bay seasoning
1/2 Lemon
Process:
Brush each filet with lemon and sprinkle with old bay seasoning
Place on 350 degree , lightly oiled Grill.
Cook for about 4 minutes on each side or until inside temperature reaches 130 degrees.
Pull the fish off the grill and let it sit for about two minutes. Squeeze a little extra lemon and old bay on top and serve.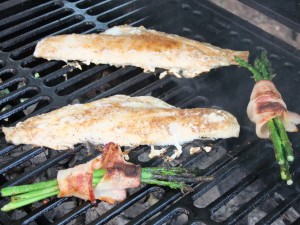 Bacon Wrapped Asparagus
Ingredients:
Bacon
Asparagus
Olive Oil
Process:
Brush Asparagus with a little oil
Wrap bacon around 4 asparagus spears (I knotted them to keep them together but if you want evenly cooked bacon, wrap them in a spiral down the spears.)
Grill at 350 for about 5-6 minutes or until bacon is cooked to your liking.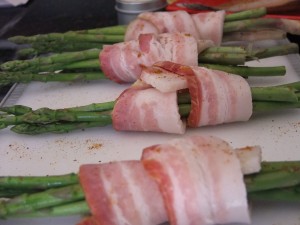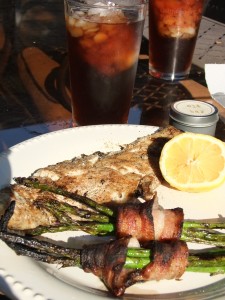 Homemade Fudgey Crunchy Ice Cream Cake
I spent my morning making a yummy fudge sauce and Brandon's Birthday cake.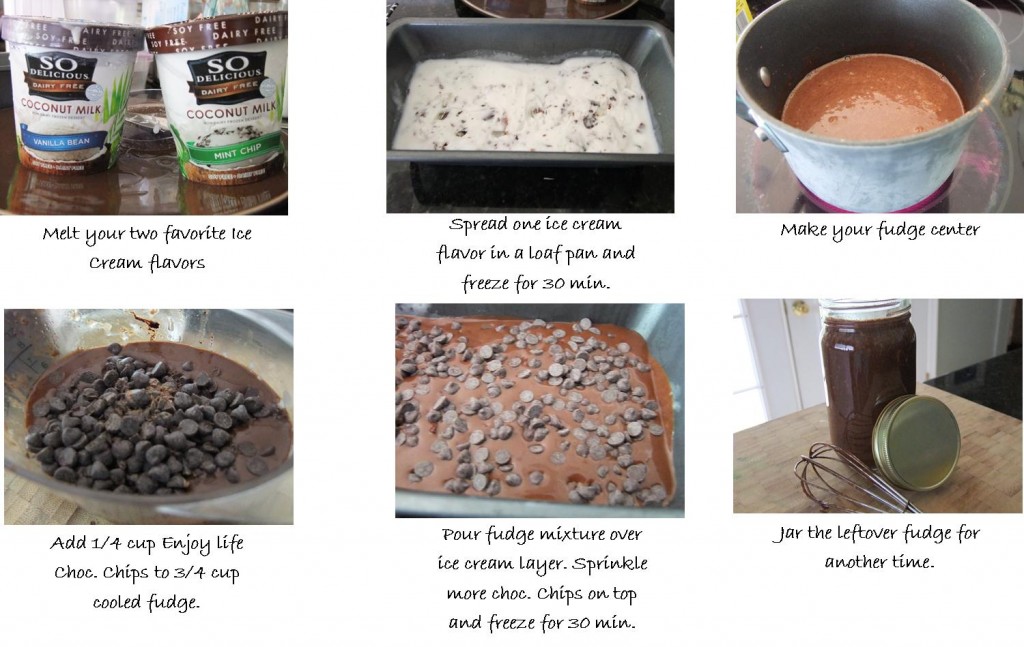 After the fudge center is cold, place the last flavor of ice cream on top and freeze for 3-4 hours.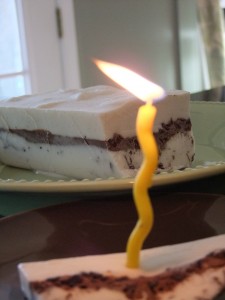 Even though we are eating differently now, we still enjoyed one of the most delicious meals. We loved haddock and Brandon said that this was one of the best cakes he's ever had. He believes all ice cream cakes need a fudgey crunchy center! I hope you enjoy this and try to make it for someone who has a special day coming up.