After spending a relaxing weekend in the Outer Banks, NC, Brandon and I came home to a not so ideal situation. Our town got hit with a wind storm that knocked the power out for almost 3 days (in the middle of a heat wave!). We are okay with the lack of A/C, no TV and no electricity but we were not okay with our freezer full of meat quickly thawing out. We spent the first 3 hours back from vacation unpacking our car and driving around 6 different towns to find ice. We pack our freezer and had a sleepover in our family room. The next morning we woke up and decided to spend the morning outside in the cooler temperatures. Brandon started the grill and I cooked up a delicious breakfast along with 20 pieces of chicken that we almost lost.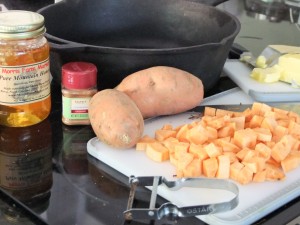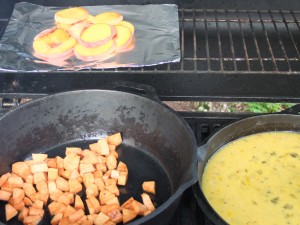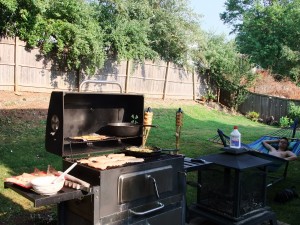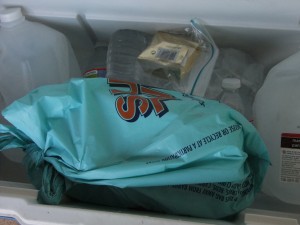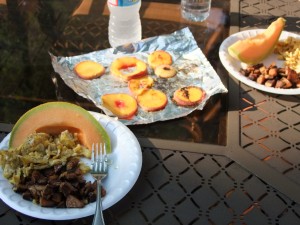 We decided that we ate better for breakfast with the power out than we do on a normal Sunday. Loved every moment of this and I didn't even mind Brandon sleeping in the hammock while I did all the work.
We ran some errands after breakfast and when we came home we realized that our meat freezer was leaking and thawing even with 70+ Lbs. of ice. We decided that our venison and meat was too valuable to lose so we threw it all into coolers and drove it out to Western, MD to put it in my sisters freezer. So happy they had room for 2 deer!
We ended up staying at a campground out in Flintstone, Maryland since some of my family was already there. Pretty wonderful how a bad situation gave us the ability to spend extra time with family and enjoy a quick camping trip. Brandon was even able to work from the campground.
This was not the most idea situation to come home to but we had a lot of fun and we realize how lucky we are that we were both safe, our house was safe, we only lost a little bit of food and we got to spend a little extra time with family and each other. We also discovered that breakfast on the grill was delicious and we plan on more breakfasts like that!