Today I gave myself a challenge: Eat Slow, Eat Peacefully!
I am reading The Whole 9′s book It Starts With Food and I really enjoyed Chapter 16: Meal Planning made easy. It discusses not only how to make your plate using the knowledge from the book but it also shares the importance of taking your time with your meals. It says that we need to build a healthy relationship with our food so we should remember that "Meal time is about building new traditions within our own kitchens, with our families- and a good example for our future generations." This hits home with me big time because I grew up in a family where we cooked every meal and generally together. We ate dinner at a big dining room table. We worked as a family to make the meal and we enjoyed eating it as a family over great conversation. It would have been easy for my mom to make us some microwave crap dinner and watch TV. With 5 girls, I am sure she wished she could but she didn't. She set the tradition and the expectation that this is what families do. "A family that eats together, stays together."
My husband and I enjoy dinner together every night and for the most part we eat at a table without TV or computers and phones. Over the summer we have had the occasional breakfast together too but we definitely don't take time for lunch. I have been grazing a lot throughout the day rather than making a lunch and sitting to eat it. With summers off, I don't have a schedule. I know that Brandon eats his lunch at his desk browsing facebook or the internet. We don't put as much value on lunch as we do at dinner because we aren't together so we didn't think it really mattered. After reading this book I realized that it matters to my body and that taking time for all 3 meals is more important than we think.
Here is my challenge today:
Eat a meal within 1 hour of waking up (hardest for me so far!)
Eat 3 meals in a relaxed fashion, unplugged and no distractions.
Chew slowly and enjoy every bite.
Drink a big glass of water if you aren't full
Plan your plate around your protein and fill your plate with veggies.
Eat only 3 meals and no snacking if you can help it.  (Notice I didn't focus on whole 30 approved foods, only on the steps! Take it slow!)
Here is what I ate today: 
6:30am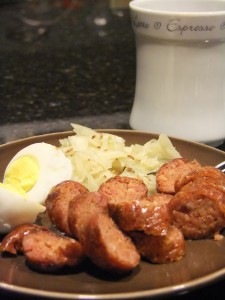 2:00pm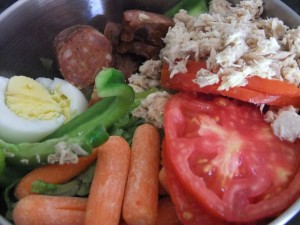 6:00pm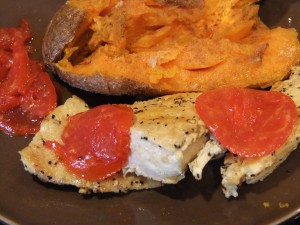 How do I feel you ask?
I see how important it is to chew and enjoy. I notice that I didn't clear all my plates because I felt full. I notice that I drank more water during my meals and I felt very happy at each meal. I did get hungry and was able to satisfy my hunger with each meal. Delicious! This was a great challenge- you should try it!