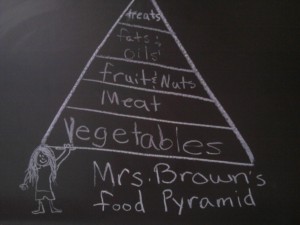 Today I was teaching my 2nd graders about healthy food options. We looked at the Standard American Food pyramid and one of my kids said but why don't you ever get milk or bread? I said well, not everyone believes that this food pyramid is right for them and I know that grains and dairy don't settle well in my tummy so I choose not to eat them. They asked what my Food Pyramid looked like so I drew it for them (I quickly got asked about my honey bottle and tiny stash of dark chocolate- so I had to draw a treat section!) I told them I loved exercise but I wanted to get some muscles in my arms so I drew myself lifting a food pyramid. That kids thought it was awesome and then we did a little air jump, squat and stretching session.
I taught the kids about reading food labels and paying attention to nutrition facts. First, I read "The Bernstein Bears and Too Much Junk Food" then I emptied my lunch box and showed them how most of my foods didn't have a label because I made them at home. The kids thought it would be a good idea to check their own lunches and they were very disappointed with what we found. They were sharing and reading labels and complaining about the sugar. Their biggest disappointment was a bag of fruit snacks. One student was excited and said "Made with real fruit!" and we decided to throw it under a document camera for all to see. As we read the labels they said "where is the real fruit?" One kid said, and I died laughing "Where's the real fruit?? Mrs. Brown why do they lie to us? That's not good!" We had a quick chat about food marketing and healthy tricks. We packed up and I joined them for lunch where they began analyzing the food in the lunch line. Some of their shocks here were: Chocolate milk (6 of my kids started whispering- Sugar no put it back it has sugar!) and Yogurt- they couldn't believe it had sugar! I told them labels are the most important thing to read and their homework was to go home and read labels and pack one healthy snack. Before they left I told them "If it doesn't Rot, it isn't Real!" I am hoping we get some fruits and veggies in our lunchboxes tomorrow. This was a great lesson and it was awesome to see how smart my kids were with their food choices after they learned about the importance of labels.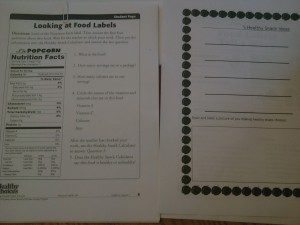 After a great day of teaching, I was very inspired to make some fun meals to model for my kids. Tonight I came home and came up with this recipe.
Cajun Pasta
Ingredients:
3 Chicken Breasts
2 Smoked Sausages or Kielbasa
24oz Tomato sauce
4 oz water
1/4 C. Onion, diced
1/2 C. Green pepper, diced
1 Tbsp. Cajun Seasoning (we used Slap Ya' Mama seasoning)
1/2tsp Sea Salt
1/2 tsp Black pepper
Zucchini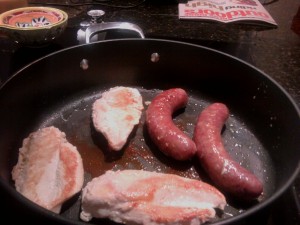 Process:
Place chicken and sausage in a skillet, turn on medium heat and cover. Allow meat to cook until chicken is no longer pink (flip once).
Dice Onion and Peppers.
Shred Chicken and slice sausage.
Add Onion and Peppers to the shredded meat and allow is to cook on low. (onions should be translucent.
Add tomato sauce and seasonings. Cover and let simmer on low for 10 minutes.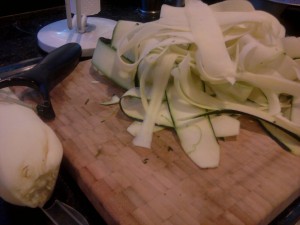 Zucchini Process:
Slice on zucchini with a mandolin or peeler (should be very thin).
Bring a large pot of water and sea salt to a boil
Add Zucchini to boiling water and allow it to cook for 2 minutes until it is tender but not falling apart.
Serve Zucchini with Cajun Sauce