Cajun Pasta
Ingredients:
3 Chicken Breasts
2 Smoked Sausages or Kielbasa
24oz Tomato sauce
4 oz water
1/4 C. Onion, diced
1/2 C. Green pepper, diced
1 Tbsp. Cajun Seasoning (we used Slap Ya' Mama seasoning)
1/2tsp Sea Salt
1/2 tsp Black pepper
Zucchini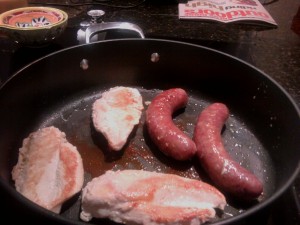 Process:
Place chicken and sausage in a skillet, turn on medium heat and cover. Allow meat to cook until chicken is no longer pink (flip once).
Dice Onion and Peppers.
Shred Chicken and slice sausage.
Add Onion and Peppers to the shredded meat and allow is to cook on low. (onions should be translucent.
Add tomato sauce and seasonings. Cover and let simmer on low for 10 minutes.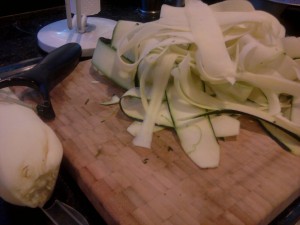 Zucchini Process:
Slice on zucchini with a mandolin or peeler (should be very thin).
Bring a large pot of water and sea salt to a boil
Add Zucchini to boiling water and allow it to cook for 2 minutes until it is tender but not falling apart.
Serve Zucchini with Cajun Sauce