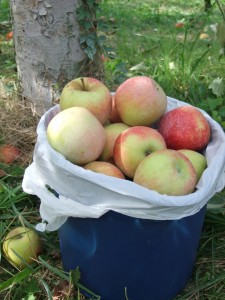 I had so much fun playing in the kitchen with the fresh apples we picked from Crooked Run Orchard.
I decided to make an apple crisp and some Crock-pot applesauce.
 Crock Pot Applesauce
I sliced and peeled 10 apples and placed them in a crockpot. Next I Added 2 small lemon peels, half a lemons juice and 1 Tbsp. Cinnamon. I cooked the apples on low heat for 6 hours. Stir occasionally. When it is finished you can jar it and store in your fridge for 3 weeks or can it to use later in the winter months.
Apple Crisp
Ingredients: 
2 Large Apples

1/4 tsp Cinnamon

1 Tbsp Honey

1 Lemons juice

Coconut oil

I used Practical Paleo's crumb topping- If you don't have that book you could use: 1 Cup Walnuts, 2 Tbsp. Melted butter/ coconut oil, 1Tbsp. Honey and a pinch of salt. mix well and crumble on top of apples.
Process:
Grease a pie plate and preheat oven to 325 F
Slice apples into thin slices, I left the skin on for color.
Place apples in the pie plate and sprinkle with lemon juice and cinnamon, stir until apples are evenly coated.
Drizzle with honey apples with honey until apples are coated.
Top with crumb topping.
Place Crisp in the oven and bake for 30 minutes or until juices begin to bubble slightly and crumb top is golden brown.
Serve warm with ice cream or coffee.