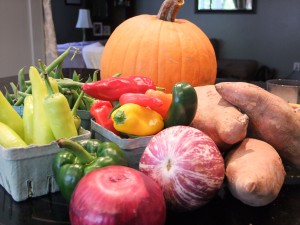 Today we got up, finished our chores and then walked around the local farmers market. I was thrilled when I saw a few of the vendors were selling pumpkins. Hooray for Fall! I've always wanted to make my own pumpkin puree so I decided that this was the day to experiment. It was so simple!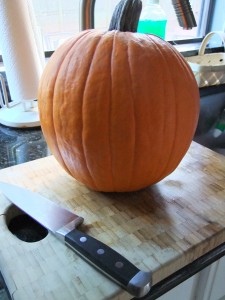 Ingredients:   1 Medium cooking Pumpkin
Process:
Preheat oven to 375F
Cut the pumpkin stem off and cut the pumpkin in half.
Use an ice cream scoop to remove seeds and pulp. (set aside for later)
Slice pumpkin into manageable chunks.
Place pumpkin in a baking pan and cover with tin foil.
Bake for 90minutes.
Scoop pumpkin out of the shell (should be very soft and easy to scoop out with a spoon.)
Put pumpkin into a mixing bowl, mix until pureed. (You could also use a blender or puree tool.)
One Medium pumpkin gave me 7 cups of pumpkin puree.
Store pumpkin in freezer bags for later use. I measured 2 cups per bag.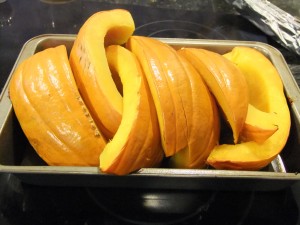 Roasted Pumpkin Seeds
Process:
While your pumpkin is cooking. Rinse and clean pumpkin seeds.
Lay seeds out to dry.
Coat baking sheet with coconut oil.
Place seeds on sheet and sprinkle with sea salt.
Bake at 325F for 25 min, half way through stir seeds so they are fully coated in oil and sea salt.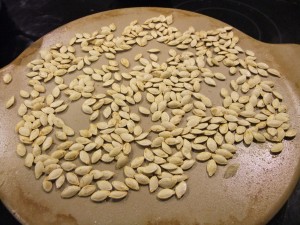 I used some of the pumpkin puree today to make these delicious Pumpkin swirl muffins.