In remembrance of those brave men and women that have served our Country. Farm Fresh and Active thanks the hero's of our great nation. May God be with you and your families and may He send peace to Americans throughout the day. I took some time to reflect on today. My students are in 2nd grade, they were not born when this tragic event occurred. They had no idea and asked why we had Constitution Day. I filled them in on the events and shared where I was 11 years ago. My husband and I have chosen to go to NYC this year to run the
Stephen Siller 5k
through the tunnel toward the tower memorial. Going into this race at the end of the month, I know it will be extremely touching and tearful but I really want to do something to show support for all of those who have died. How did you take time today?
Red, White and Blue Muffins
Ingredients: 
1 Cup Strawberries
2 Cup Almond Flour
1/2 tsp. Baking Soda
1/2 tsp. Baking Powder
1 tsp. Cinnamon
2 Tbsp. Honey
2 Eggs, whisked
1 tsp. Vanilla
2 Tbsp. Butter, melted
1 1/2 Cup Blueberries
Make Topping:
1/2 Cup Hazelnuts
1/3 Cup unsweetened coconut
1 Tbsp. Butter, Melted
Mix and set aside to top muffins before baking them.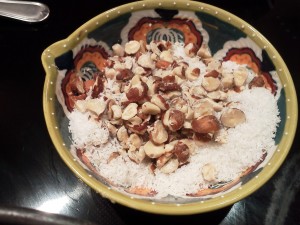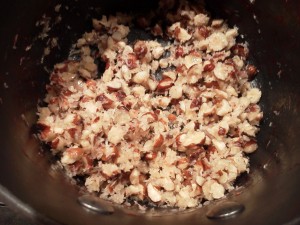 Muffin Process:
In a saucepan, cook down strawberry on low heat until the berries are mashed and pureed.
Combine Flour, Cinnamon, Baking powder, and Baking soda, Mix well and set aside.
In a separate bowl combine whisked eggs, melted butter, Vanilla, and strawberry puree.
Add Strawberry mixture to flour mixture and mix well.
Add Honey and mix until well blended.
Add Fresh Blueberries and gently stir.
Pour into muffin cups 2/3 of the way full. Top with Hazelnut topping.
Bake at 350 F for 20 minutes or until knife comes out clean