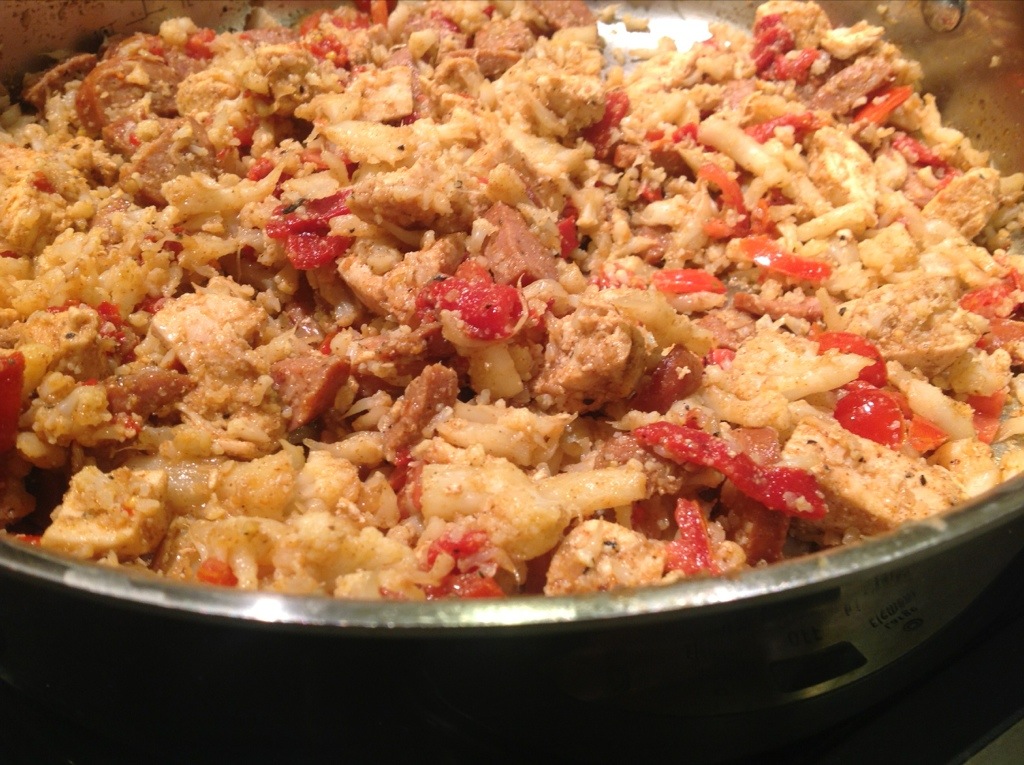 It is official, we are training for a half marathon in December. This time I am training with a paleo diet. We did 7 miles today and I have not eaten any bread, grains or gluten! So excited with my energy and achievements so far. I don't feel like I am lacking in my training and I am definitely training harder and better than my pre- paleo trainings. I've been using Practical Paleo's book to guide my meal planning for athletes. It is so informative and has great meal guides. I was nervous training because I was used to the classic "carb- load" training!
Chicken Paella
A healthier take on Fall comfort food
Ingredients
2

sausage links Diced

2

small chicken breast diced

1

shallot diced

4

Cloves

of garlic diced

1

Small tomato diced

3

Tablespoons

olive oil

3

Teaspoons

Paprika

1/4

jar Paqullio peppers

1/2

head cauliflower

cauliflower rice (see recipe in notes)

Salt and pepper to taste
Instructions
Heat olive oil in a pan on low heat

Sauté chicken, onion and sausage on medium heat

Add and Sauté garlic.

Add cauliflower rice (See recipe in Notes)

Add paprika and mix well

Add salt and pepper to taste

Add diced tomato and pepper, mix well and simmer for 5 minutes

Enjoy!
Recipe Notes
Cauliflower rice recipe:
1. Cut the stem off the cauliflower
2. Place large cauliflower chunks and water in a large pot
3. Boil for 20 minutes
4. Drain cauliflower in a strainer for 5 minutes
5. Place cauliflower in a bowl and beat with a hand mixer, don't over mix, it will be a rice texture