I have been so busy with my new little bundle of joy, selling our house and moving that I haven't had much time for blogging or playing with new foods in my kitchen. Luckily, life will slow down after the 21st of November and I will have time to post more. In the meantime, did you know that I write for Paleo lifestyle magazine? if you are looking for some of my recipes that aren't on the blog, check it out at http://www.paleolifestylemagazine.com
You can also follow them on twitter @paleolifemag or on Facebook.
More great news- one that I was so excited about!! One of my (un-blogged) recipes was chosen for Paleo Magazine's Readers Choice Cookbook. This book has amazing recipes and tons of inspirational stories!
You can check this out at amazon .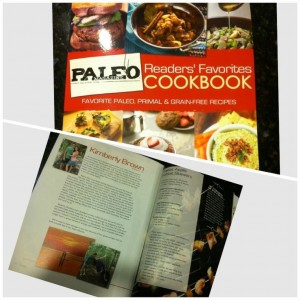 More importantly, I have received several emails,messages and Facebook messages about how so many of you have started Paleo and lost weight and been inspired by my story or by the stories you've seen on the blog. I'd love to hear your success Paleo stories and start having a few blogs dedicated to sharing them. If you have a story and want to share- let me know. You can follow me on twitter @farmfreshactive or Facebook farmfreshandactive.
Happy eating!