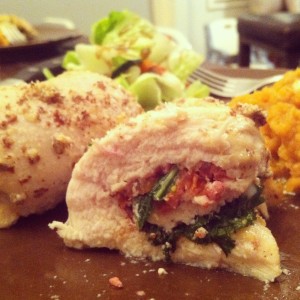 Looking for a quick and easy 30 minute meal? This is an easy weeknight meal that you could adapt with so many different ingredients. I made mine with lots of veggies and bacon and made Super Hubby's with Cheese, Bacon and Kale. When not everyone in your house likes the same ingredients, this is your go to recipe for Healthy, Quick Dinners.
Ingredients:
2 Large Chicken Breasts ( 1 Breast makes two rolls)
2 Kale leaves
1 Roma tomato, sliced thin
4 Tbsp. Bacon pieces
Salt and Pepper to taste
1 Egg
1/2 Cup Almond Meal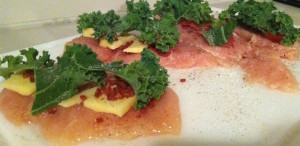 Process:
Preheat the oven to 350 degrees
Place Chicken between two pieces of parchment paper and flatten with a Meat Tenderizer
Slice the breast in half so you have 4 pieces
Salt and Pepper each piece
Layer each breast with 1 Tbsp. of Bacon, Kale and Tomato slices
Roll each Chicken gently and hold together with a tooth pick
In a bowl, whisk an egg and and dip each Chicken roll in the egg
Lightly coat/ pat each chicken roll with almond flour
Place Chicken Rolls on a Tin Foil lined cookie sheet and bake in the oven for 25 minutes
Remove toothpicks and serve with your favorite sides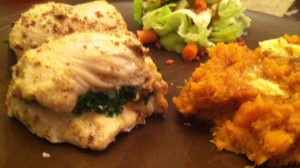 *These can be made ahead of time by following all of the process' and freezing them in a parchment lined tupperware container before you cook.