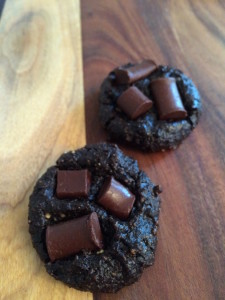 I have been so busy these past few months! Nursing my baby girl constantly (SERIOUSLY.. she eats ALL the time, every 40-90 minutes all day and night long)
She hates sleeping too so it is everything I can do to cook for my family, clean and manage to have energy to play with my VERY ACTIVE 2 year old. Needless to say, I have been exhausted and not able to create too much in the kitchen for my awesome followers. SORRY!!
I'm not sure about you BUT when I am tired, I  C R A V E  sugar so much! This is not a good thing for me because sugar makes me irritable and moody.
I satisfied my cravings by working on this recipe A LOT. I have been making this for every get together and event I've attended for the last few months. Hope y'all love them as much as my non- paleo friends.
*side note- I made these for our local police officers for a "Feed the Police" event and they were devoured before most of the police officers got to the event…
Chewy Flourless Chocolate Cookies (Vegan, Gluten Free, Paleo)
These are inspired by my obsession with the Gluten-Free Starbucks Flourless Cookies that they used to carry!
1

Cup

Cashew Nut Butter

2/3

Cup

Coconut Sugar

1/2

tsp

Vanilla extract

4

Tbsp

Dark Cocoa Powder

1

tsp

Baking Soda

1/2

Cup

Applesauce

1 Egg can substitute

1/2

Cup

Dark Chocolate chips for topping

( I use Enjoy Life Mega Chunks)
Preheat oven to 350 Degrees

Combine all of the ingredients except chocolate chips in a mixer

Scoop 1 Tbsp. size cookie dough onto parchment paper, gently flatten

If using mini chocolate chips, gently stir them into batter

If using mega chunks, put three on the top of each cookie.

Let cool completely or they'll be crumbly.
Don't forget to Follow me on Instagram, Facebook and Twitter for daily food ideas and tips!
Twitter @farmfreshactive
Instagram Farmfreshandactive
Facebook: https://www.facebook.com/FarmFreshAndActive