September is here! I'm ready for apple picking, pumpkin patches, bonfires and fall boots.
I love all things Fall
Obviously, my favorite fall activity is picking fall fruits and baking. I throw on my over sized sweaters, prop my doors open and light spiced candles while playing in the kitchen with my kids.
As a tribute to fall and all things spiced and delicious, I wanted to share my favorite Fall recipes with you.
Challenge Time
Here is my Fall Challenge to you:
1. Cook your way through these recipes
2. Take pictures of the recipes and share them on your social media
3. Tag Farm Fresh and Active on your social media posts
For every recipe you make, you will be entered to win Primal Palates Pumpkin Pie Spice, just in time for your holiday baking.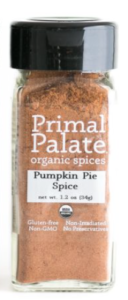 This contest ends on September 30th so get to baking and sharing! *See end of post for official rules!
Fall Recipe Round up
Pumpkin Pie Spice Rules:
To be entered you must Follow Primal Palate on Instagram
To be entered you must Follow Farm Fresh and Active on Instagram
1 point per recipe (Not per photo of recipe).
1 point per social media share. (If you share on all your accounts, don't forget to tag Farm Fresh and Active in your posts to get the point).
1 point for sharing this blog post with your friends encouraging them to join the game.
The more recipes you make the more chances you have to win! Good luck Paleo Warriors