Love your enemies, do good to those who hate you, bless those who curse you, pray for those who mistreat you. Luke 6:27
It's easy to love people who love you, but what happens when someone doesn't love you? How do we handle a situation when we feel compelled to love someone who doesn't love us in return?
Over the last few years, I have endured more surprising hate then I could have ever imagined. In all of this, I am reminded of C.S. Lewis' words from The Four Loves.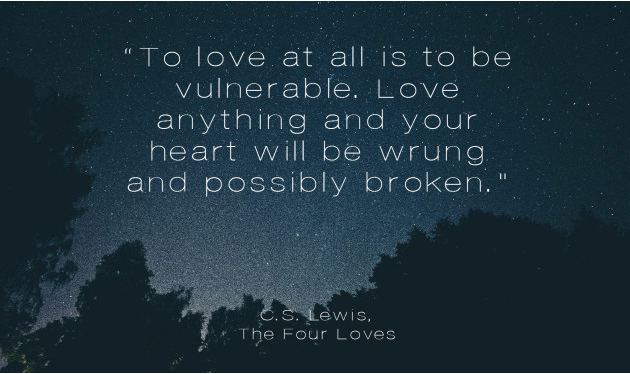 It's easy to love people who love you, but what happens when someone doesn't love you? How do we handle a situation when we feel compelled to love someone who doesn't love us in return?
How to love, even when it is hard
Here is what I have been practicing over these last few years of rocky relationships:
Pray for your heart and their heart 
Prayer has been so important to me over the last few years. My prayer often says, "open the right doors and shut the wrong doors. Show me how to handle this the way YOU would want me to handle this." If I don't see a clear answer, I wait and continue praying before I make any drastic decisions about the relationship.
Learn their side of the story
This is probably the most important tip i've learned. Watching my relationships with several people in my life get destroyed over these last few years has been devastating. Almost every single relationship was destroyed because someone chose to spread hate. The people that chose to listen to the hate, never checked both sides of the story.  If you have someone difficult in your life, take a minute to step into their shoes. At least admit that you have NO idea what they are going through because you've never been in that situation. Just because someone is doing things differently than you would, it doesn't make them wrong, just different.
Remember you aren't perfect
To someone else, you may be a difficult person. No matter how amazing we think we are, we still have our own flaws. Aren't you so thankful for grace and forgiveness? Remember to practice offering forgiveness often.
Don't run away
It's an easy way out and it won't solve the problems. As much as we want to run away and avoid difficult people in our life, running away isn't the answer.
Don't let fear drive your emotions
I am guilty of being afraid of the unknown. Confrontation is tough and it is easier to walk away and pretend we don't care. Living in fear can quickly turn to hate and negativity in your own life.
Never miss an opportunity to bless them
Sometimes opportunities fall in our laps that allow us to be a light in someones life. If you have a chance to bless or encourage your person, take it, that may be the door God is opening for you.
Take some time to breathe
Don't be afraid to take a step away from the relationships and situations. Remember what we learn when we are fighting with someone as a toddler? Walk away! This will give us time to reflect on our situation. Stepping away can give you new insight on how to handle this season.
Keep Boundaries in place
 Often times we can blur the boundaries of showing love and getting taken advantage of. You need to be reflective and make rules for your relationships. Be sure you aren't hurting yourself by putting too much into one person. Keep it healthy and productive.
We All Struggle With Love
Openly, I admit that I'm learning this as I go. We have to put steps into place to love those who have hurt us over the years. I was never one of those people that threw, "I love you" around. In fact, my husband is the only guy that I've ever said I love you to in an romantic way.
I was always afraid of getting hurt in love. I tend to be very guarded and quick to run when I feel like things are getting tough.
I am still working on continuing to love people who have hurt me or hurt my family. I'm always praying that God continues to keep my heart open to forgive and soft enough to continue loving.
My biggest struggle is learning to be a Women of God who knows when to keep her mouth shut and when to speak up. I'd so much rather just run my mouth and shut people down.
How do you love difficult people?
What could you take away from this list and start using right away?
Take it one step at a time and remember to keep God at the center of all of your relationships.