When you wake up craving cinnamon buns, but you didn't spend hours prepping them the night before!
I did have 25 minutes to satisfy my craving though. Now I have these delicious cinnamon muffins and I didn't have to put a ton of work and time into it. Such a win for my busy mom life.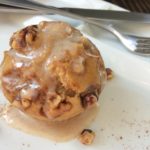 Cinnamon Bun Muffins
That icing is everything! Perfect breakfast for a cold morning
Ingredients
Muffin Ingredients
2

c

almond flour

1

tsp

baking powder

1/2

tsp

baking soda

2

tsp

cinnamon

3/4

c

coconut sugar

1

tsp

Vanilla Extract

1/4

c

almond milk

4

eggs
Topping Ingredients
1

Tbsp

Coconut Oil or Kerrygold Butter

Melted

1/4

cup

chopped walnuts

1/2

tsp

cinnamon

1

tsp

coconut sugar
Icing Ingredients
1

tsp

cinnamon

2

Tbsp

syrup

1/2

C

Cold Coconut Cream

From the Can
Instructions
Muffin Batter
Preheat oven to 350 degrees

Combine dry ingredients in a bowl and mix until combined

Add Eggs one at a time and mix until completely blended.

Pour the milk and vanilla into the batter and stir until mixed well.

Line a muffin tray with baking cups (I prefer silicon baking cups)

Scoop batter into cups, about 3/4 full, set aside and make topping.
Muffin topping
Melt coconut oil (or butter) and add the cinnamon, sugar and walnuts, gently stir with a spoon until nuts are coated.

Spoon about 1 tsp. of topping on each muffin.

Place in the oven and bake for 18 minutes or until the top turns golden and the muffins are cooked through. (You can insert and remove a toothpick to see if batter is cooked)
Icing
While the muffins are baking, make the icing.

Get a can of cold coconut milk out of the refrigerator and open the lid. Scoop the top layer of thick cream off the top and place it in a bowl. (you can put the milk part back in the fridge and use it later)

Add cinnamon and syrup to the cream and stir well with a spoon
Putting it all together
Once muffins are finished, let them cool for a minute. Then remove them from the baking cups and place them on a large plate close together.

Take your icing and start spooning it evenly over the muffins as evenly as you can. The icing will begin to melt over the warm muffins so use your spoon to make sure all the muffins get the desired amount of icing.
Follow me on social media for more delicious recipes and meal ideas.
Instagram: @Farmfreshandactive
Facebook: Farmfreshandactive