This is a simple restaurant style salsa. Most of the ingredients were from my garden the rest came from last weekends farmers market.  You can make it hot or mild by tweaking the ingredients. I will even throw in a bonus to this post and tell you about my Guacamole.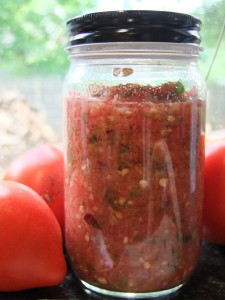 Garden Fresh Salsa
Ingredients: 
2 large tomatoes
1 green chili pepper (de-seeded if you want it mild)
1/4 of a Red onion
1 clove of Garlic
1 Jalepeno pepper (de-seeded if you want it mild)
1/4 tsp Sea Salt
1/4 tsp Cumin
1/4 c. Cilantro
1/2 a lemons juice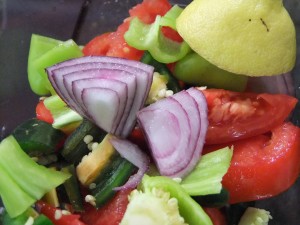 Process:
Prepare your vegetables: De-stem them and for mild salsa de-seed the peppers. Cut your vegetables into  quarters.
Place all of the ingredients into a food processor or a blender. Pulse until vegetables are small and it looks like salsa. Careful not to blend to much unless you want liquid salsa.
Serve with your favorite veggies!
* Bonus:  Mix this salsa with 1 Avocado, add a bit of lemon juice and enjoy!