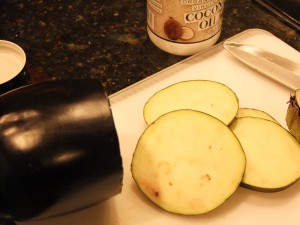 I went to Giant today and saw some locally grown eggplant from the farm down the road. I haven't eaten Eggplant since I was younger. I remember my mom made us try it and of course as a little kid we thought it was gross!! The only thing I liked about it was that we boiled it down to make purple dye for our easter eggs- pretty cool.
After reading about the benefits of eggplant, I decided to give it another try.
Gourmet Eggplant Venison Burgers
Ingredients:
Ground Venison
salt, pepper, your favorite burger seasonings
Coconut aminos (if non- paleo, Worcestershire sauce)
Onion
Balsamic Viniagrette
Eggplant
Tomato
Lettuce
Dijon mustard
Process:
In a large bowl, combine ground venison and your optional spices, coconut aminos. Combine and make into burger patties.
Place burgers in a pan and cook on medium heat for about 4 minutes on each side, or until slightly pink in the center. *You do not want to over cook venison*
Lightly oil a second pan with coconut or olive oil.
Sprinkle and brush each side of the eggplant with balsamic vinaigrette.
Place thin slices of eggplant (enough for each burger you made) and onions to the pan.
Sprinkle a little balsamic and Sea Salt on the onions and eggplant.
Cover Vegetables and allow them to cook on medium-low heat for 5 minutes. After 5 minutes, flip them and cook for another 5 minutes.
Slice tomato and prepare lettuce wrap.
When everything is cooked and ready, you can plate it.
First place lettuce on a plate, next the burger, top it with 1 eggplant slice, 1 tomato, sautéed onions and a dollop of Dijon Mustard.