I had some leftover oranges from last weeks photo shoot so I got inspired to try something new and fun for dinner. I also found a great way to make squash from my garden- I have so much that I am willing to experiment!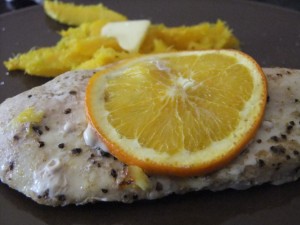 Orange Ginger Chicken
Ingredients:
4 Chicken Breasts
Sea Salt, Pepper to taste
1/2 tsp. Ginger
1/4 tsp. Cumin
1 Orange
Olive oil
Process:
Preheat oven to 350 degrees
Place chicken on a greased cookie sheet.
Sprinkle all 4 breasts with some olive oil, salt, pepper, ginger and cumin. Use a brush to spread the spices all over the chicken.
Repeat step 3 on the other side of the chicken.
Squeeze a 1/4 of an orange's juice on all 4 breasts and top with a thin orange circle.
Bake for 35 minutes.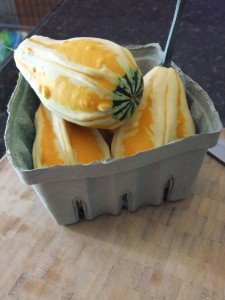 Baked Squash
Ingredients:
Squash
Butter
Salt and Pepper
Process:
Cut the squash in half and throw it on the same cookie sheet as the chicken.
Bake for 45 minutes
Remove the seeds and then scoop out the meat onto a plate.
Top with as much Butter, salt and pepper as your taste buds like and enjoy!