It took me almost a year to perfect the Paleo approved Brownie. You know the saying "Things happen when you quit looking for them?" This is exactly what happened. I had given up on finding that brownie recipe that tastes like the brownies I used to make before going Paleo. I was working on a chocolate frosting recipe and when I failed at that, I turned it into these amazing brownies instead. These are incredible and they stay moist in a container for over a week (as long as you can refrain from eating them all!) These are Egg Free and Dairy Free!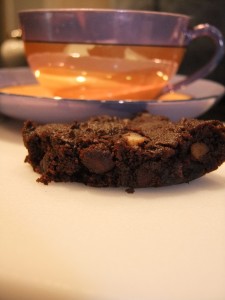 Chocolate Coffee Brownies
Ingredients:
1 Cup Almond Butter
1 Cup Chocolate Chips
1 tsp. Vanilla extract
1 Tbsp. Coconut Oil
2 Tbsp. Cocoa Powder
1/2 Cup Coconut Flour
1 tsp. Baking Soda
1/2 tsp. Baking Powder
1/2 Cup Maple Syrup
1/2 Cup Chopped Hazelnuts (any nuts)
1/2 Cup Brewed decaf coffee (or caffeinated)
Process:
In a saucepan melt coconut oil at a low temperature.
Add Chocolate chips, almond butter and vanilla extract, stir and melt at a low temperature until smooth.
In a mixing bowl combine the flour, cocoa, baking soda and baking powder.
Slowly add the maple syrup to the mixing bowl. Mix well.
Add the chocolate sauce to the mixing bowl and mix well.
Add brewed coffee to the mixing bowl and mix well.
Stir in hazelnuts.
Pour batter into a 9×13 greased baking pan.
Bake at 350 degrees for 10-15 minutes. (Keep a close eye on them after 10 minutes- if they over cook they will be dry and crumbly.)
These are warm, chewy brownies. They stay moist and delicious. My husband made an awesome brownie sundae with them by heating it in the microwave for a few seconds and topping it with Coconut Milk Ice Cream.  I cut them into shapes with a cookie cutter for a Halloween photo shoot for Paleo Lifestyle Magazine. You will love these treats!