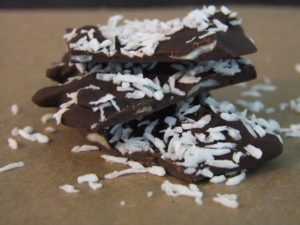 Tis the Season to eat sweets?  If you are anything like me, your days are filled with obstacles of chocolate, cookies, brownies, candy and Christmas baked goods. When I was a teacher, the lounge was totally off limits for me.
I make my own baked goods that I can take with me in case I feel the creeping of a sweet tooth.
Kimberly's Easy Bark Recipe
Ingredients:
Almonds, hazelnuts and Macadamia Nuts (you can combine or make separate batches of each type of nut. I've done many different versions.)
Dark Chocolate Chips (Enjoy life brand)
Process:
Chop nuts in food processor.
Place nuts on a piece of Parchment paper. (I use a silpat-best investment ever!)
Melt chocolate chips
Pour melted chocolate over the nuts and quickly mix them with a rubber spatula.
Spread the bark out on the paper and allow it to cool and dry for 6-8 hours.
What are some of your favorite treats? Share links, recipes and ideas in the comments below.