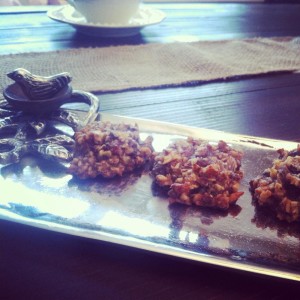 Always looking for alternatives to eating eggs for breakfast! Now that I am pregnant with baby number two, I am trying to stock up on easy recipes for on the go, busy mornings.
During the winter months, I crave a warm bowl of oatmeal. I created these Not "Oatmeal" Breakfast Cookies for my busy mornings.
Ingredients:
1/2 C. Almonds
1/2 C. Walnuts
1 Tbsp. Flaxseed Meal
10 Pitted, Medjool Dates
1/4C. Honey
1/4C. Almond Milk
1/2C. Unsweetened Coconut Shreds
1/4 tsp. Sea Salt
1/4 tsp. Cinnamon
1 Egg
1/2C. Raisins
Process:
Place Flaxseed Meal in a small bowl and add 2 Tbsp. Water, set aside for 2-3 minutes.
In a food chopper, Chop Walnuts and Almonds.
Set Nuts aside in separate bowl
Chop Dates, Milk, Flax, Salt, Cinnamon, Coconut Shreds and Honey until creamy
Pour Date mixture into the Nut mixture, stir until well blended.
Add 1 Egg to the nut mixture and mix well.
Add Raisins and stir carefully.
Spoon batter onto Silpat/ parchment paper lined tray
Bake at 350 degrees for 15 min.
Place onto cooling rack to let them firm up.
Eating them warm is my favorite but they are good at room temperature as well. These are easy to freeze- they last about 2 months in a freezer.
*Warning- Toddlers love these Cookies and sneak them when you aren't looking.