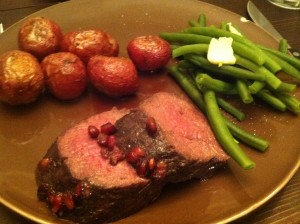 This is my new favorite way to eat venison. I had Pomegranates and oranges left over from  my holiday decorations and decided to get creative with dinner. While the recipe is a bit lengthy to read, it was very simple. Don't over cook the venison and this will be a family favorite! ( You could use on any tenderloin, we just always have venison thanks to my hunting hubby!)
Pomegranate Venison Tenderloin 
Marinade:
2 Cups Water
3-4 lb. Venison Tenderloin
1/4 C. Applesauce
1 Orange, Juice of the orange only
1 Tsp. Salt
1 tsp. Black Pepper
1 tsp. Garlic Powder
1 tsp. Onion Powder
1 Tbsp. Maple Syrup
4 Bay Leaves
Glaze:
Half a Ripe Pomegranate, seeds and juice
Salt and Pepper to taste
1/4 C. Maple Syrup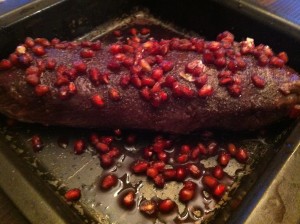 Process:
Place 2 Cups of Water in a baking pan and place your Venison Tenderloin and Bay Leaves in the pan
In a bowl, combine all of the ingredients for the Marinade
Pour this thick Marinade evenly on top of the venison Tenderloin
Cover Tenderloin with tinfoil and place in fridge for 4-6 hours.
Preheat oven to 425 degrees
Roll the Tenderloin in the water to remove all of the marinade off of the tenderloin, dump the marinade and keep tenderloin in the baking pan. (May help to move tenderloin onto a separate plate while you clean out the baking pan)
Squeeze half the pomegranate over the tenderloin, you want the juice and the seeds to be on the tenderloin.
Sprinkle the meat with Salt and Pepper
Drizzle 1/4 C. Maple syrup evenly over the tenderloin
On the stove, warm a pan in medium heat and place the tenderloin gently in the pan.
Lightly Brown the Venison on all sides to lock in the juices
Place the venison back in the baking pan and pour any juices or seeds that fell off back on top of the Tenderloin
Place the Venison Tenderloin in the oven at 425 degrees for 20 min.
You want to really watch and check your Tenderloin so that you do not overcook. You want a nice pink center, the ends will be more well done but the center should be hot and pink. Overcooking Venison will make the meat chewy and tough.