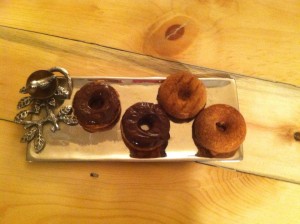 Brandon's Paleo Donuts
1/2 c. of Coconut Flour
1/8 tsp Sea salt
1/4 tsp Cinnamon
1/4 tsp of baking soda
6 eggs, room Temperature
1/4 c Honey
1 Tbsp. Vanilla
1/2 c. Butter or Coconut Oil, melted
 
Process:
In a small bowl, mix Flour, baking soda, cinnamon and salt.
Place flour mix into a blender and add Eggs, Oil, Vanilla and Honey.
Blend until batter is smooth and mixed well.
Fill donut pan circles about 2/3 of the way full with batter.
Cook in Donut maker for about 5 minutes.
*If you do not have one of these fancy donut makers you can refrigerate the dough until it is firm (about an hour) and then scoop them onto parchment paper and bake them for about 20 minutes in the oven at 350 degrees. They will come out looking like a donut cookie like the ones on the red plate in the photo below!
Toppings:
My favorite topping is a simple Cinnamon and Coconut Sugar blend. My families favorite is a Chocolate topped. Both are very easy.
Cinnamon Sugar Donuts:
Mix 1/4 Cup Coconut Sugar and 1 Tbsp. Cinnamon in a bag. When donuts are slightly cooled, place them in the bag and give it a few shakes to coat the donuts. Remove and place on a cooling rack.
Chocolate:
Melt 1/2 C. Chocolate Chips, I use Enjoy Life.
Dip half the donut in the warm chocolate and place on cooling rack.