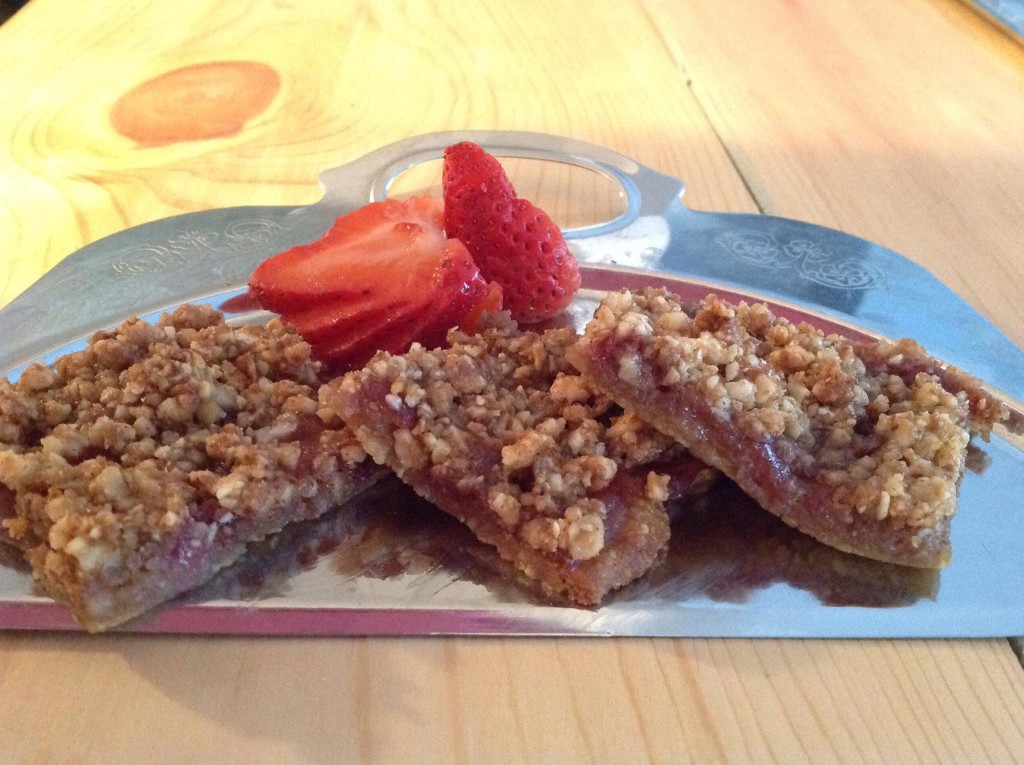 I love using fresh fruit in my desserts. This recipe has been one that I have been working on for a while. The versatility of this recipe is great for seasonal baking, just use whatever berries or jams you have handy. My favorite is a simple Strawberry because I always have these ingredients in my fridge. Baby Boy LOVES strawberry so it is in high demand always.
Strawberry Crumb Bars
Ingredients: 3 part ingredients/process
Crust: 
1 C. Almond Flour
2 Tbsp. Coconut Flour
1/2 tsp. Sea Salt
1/3 C. Maple Syrup
1/4 C. Cold Butter
Process:
Mix Flours, salt and syrup in a mixing bowl until well blended.
Add cold butter 1 Tbsp. at a time.
Mix the dough until it is evenly chunky. (You will still see chunks of butter in the batter)
Place dough in the refrigerator
Preheat Oven to 350 degrees
Grease a baking pan or sheet, you will need at least an 8×8 space to spread the dough. (I like to use stoneware or a metal cookie sheet with a Silpat)
Remove dough from the fridge and hand pat and spread it in a thin layer on your prepared baking sheet.  (dough may be sticky but you can wet your fingers a little and it will help with the sticky)
Bake crust for 15 min or until it is lightly golden on edges.
Filling:
Ingredients:
3/4 C. Strawberry Jam
1/2 C. Fresh Strawberries, diced
1 tsp. Fresh Lemon juice
Process:
Place all of the ingredients in a bowl and Mash with a fork until well mixed.
Crumb Topping:
Ingredients:
1/2 C. Walnuts
1/2 C. Almonds
2 Tbsp. Coconut Sugar
1/2 tsp. Cinnamon
2 Tbsp. Cold Butter, chopped into pieces
Process:
In a chopper, add Walnuts and Almonds together and chop well
Place Nuts in a bowl and add Coconut Sugar and Cold Butter pieces
Hand crumble this mixture until all of the topping is crumbly
Once the crust is finished baking, it should be slightly golden on the edges, layer the crust with the filling and then evenly spread the crumble on top of the jam.
Place the bars back in the oven and bake them for 20 minutes at 350 degrees.
The Jam should be nice and bubbly. Remove them and place the pan on a cooling rack for 20 minutes.
*Try these other combos:
Blueberry Jam and fresh Blueberries
Strawberry Jam and Rhubarb
Peach Jam and Fresh Peach