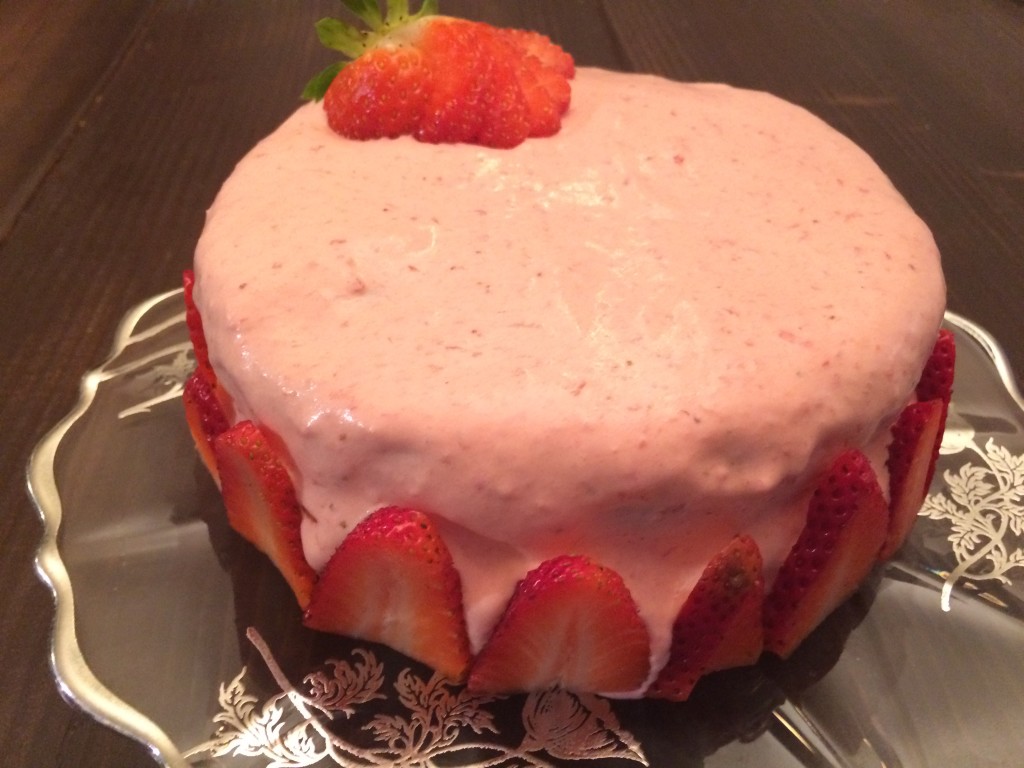 My recipe of the year right here! OMG I am in love with this cake. I think the best part is that I always have these ingredients on hand and it isn't expensive to make because it doesn't use any flour. Guilt free flourless chocolate cake is all yours to enjoy!
Flourless Chocolate Cake 
Ingredients:
1/2 C. Butter
1/2 C. Chocolate Chips
3 Eggs
1/2 C. Coconut Sugar
1/2 C. Cocoa Powder
Process:
Preheat Oven to 375 degrees
Grease two 6″ cake pans very well
In a Saucepan, Melt butter and chocolate chips on low heat until well blended
Whisk Eggs, Coconut Sugar and Cocoa in a large bowl
Add Chocolate and butter to the egg mix and whisk everything together
Pour batter into cake pans evenly and bake for 15 minutes or until toothpick inserted in the center comes out clean
Cool completely on wire rack
*Variations: This batter does not rise well, you can make in 9″ pan (bake 12 minutes) to make a thinner tartlet style. I prefer the thicker 6″ pan. Cupcake pan (Bake 12 minutes) These also make great mini cupcakes (bake 7 minutes). Watch your bake time and check with a toothpick – try not to over bake or the cake can become dry. *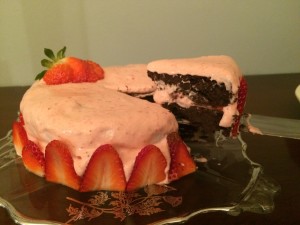 Creamy Strawberry Icing
Ingredients:
10 Strawberries
1/2 C. Coconut cream (the thick stuff at the top of a refrigerated can of coconut milk)
1 Tbsp. Honey
Process:
Place all the ingredients in a blender and cream together well
Place icing in the refrigerator for 2 hours
Place a thin layer of icing on first layer of cake, top with Fresh Sliced Strawberries. Place second cake on top and icing the top and sides of the cakes. Add decorative strawberry slices to the sides and a sliced berry to the top.
Store in refrigerator until ready to serve
*Note: this icing is a softer icing so it can be runny, don't over slather the cakes.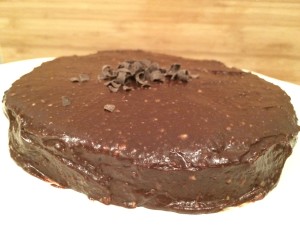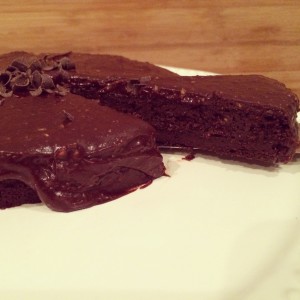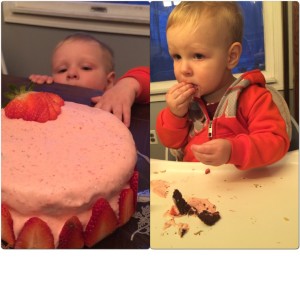 Baby Boy did not want to wait for me to finish taking photos of this "Baberry" Cake. Couldn't resist snapping a photo of his sweet face eyeing up this treat! Hope everyone enjoys is as much as my Paleo fella does!