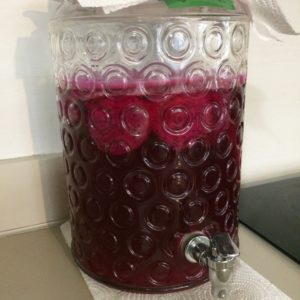 Dragon Fruit Kombucha
While brewing Kombucha initially seemed scary and overwhelming. I had an awesome friend take the scary parts out and set me up with a brew kit and directions. I've been brewing a few batches of Dragonfruit Kombucha every time we run out. My entire family enjoys it and it's the only Booch my hubby has ever enjoyed drinking. Sweet and smooth, this brew is sure to please your family and friends.
Ingredients
3

Mint Tea, Tea Bags

3

Green Tea, Tea Bags

2

Black Tea, Tea Bags

2

Dragon Fruits

1

C.

Organic Cane Sugar

12-13

C.

Purified Water

unchlorinated and Flouride Free

1

Scoby

2

C

Starter Tea

I use Komucha from the previous batch
Instructions
Bring water to a boil and add sugar, stir until dissolved

Turn off heat and add all the tea bags to the sugar water and let the water come to room temperature.

Rinse your brewing jar (a spouted jar is ideal for pouring it our into jars later) in Apple Cider Vinegar (ACV)

Remove the tea bags once the tea is cooled. (I like to give them a good squeeze before pitching them)

Add starter tea to the mixture

Peel and dice the dragonfruit, add it gently to the tea mixture

Add some room temperature clean water into the rest of the brewing jar until the jar is filled up *Optional and can vary on the jar you use. This will mute the flavors a bit, but my husband likes a smoother brew

Rinse your hands in ACV and place the scoby very gently into the tea brew

Cover the jar with a paper towel and rubber band or lid. (I find the paper towel method prevents smell and contamination).

Let the brew ferment for 2 weeks and then pour into desired containers and enjoy.
Recipe Notes
Check out the Kombucha Jello for a great treat and childhood favorite!