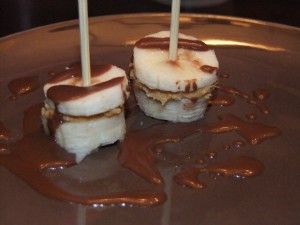 I had a dinner party tonight and almost forgot about dessert until I remembered seeing a similar pin on pinterest. Here is my Paleo approved version of Frozen Banana Nut Pops.
Frozen Banana Nut Pops
Ingredients:
2 large Bananas
2 Tbsp Cashew Nut Butter
1 tsp Honey
Pin of Sea Salt
Process:
Place wax paper on a plate.
Slice 1 banana into about 12-14 slices on the wax paper and stick them in the freezer.
In a bowl combine Cashew nut butter, honey and sea salt. Mix well.
Remove the sliced bananas from the freezer and top with cashew nut butter.
Slice the 2nd banana into 12-14 slices and place on top of the Cashew nut butter.
Stick a tooth pick in each banana sandwich and then place them in the freezer for about 30 minutes.
Serve frozen with warm chocolate sauce.