Pesto always reminds me of summer. My mom used to make pesto chicken salad and put it on homemade croissants. Although I will not be serving mine on Croissants, you are free to serve it however you wish!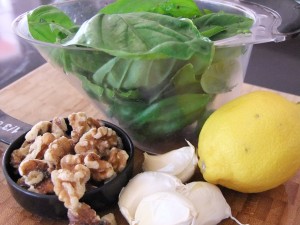 Homemade Pesto

Ingredients: 
2 C. Fresh Basil leaves
1/3 C. Chopped Walnuts
4 Garlic Cloves
1/2 C. Olive Oil
1/2 a lemons juice
Salt and Pepper to taste
Process: 
Place all the ingredients in a food processor until well blended. You may need to scrape the sides a bit to make sure it is all mixed well.
Store in a jar in the fridge.
Pesto Bacon Chicken Salad
Ingredients:
1 Lb Cooked Chicken
1/3 C. Pesto
1/2 Red onion, finely chopped
4 Strips Bacon, Crisp and chopped
1 Avocado, diced
1 tsp. Fresh Cilantro, finely chopped
Salt and Pepper to taste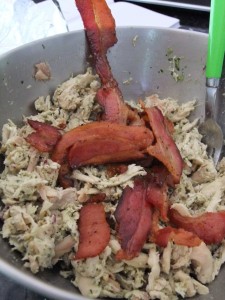 Process:
Shred chicken into manageable pieces and place in a large bowl.
Add pesto, onion, bacon pieces and salt and pepper to taste, mix well. Taste test for you own personal flavor needs.
When you are ready to serve carefully mix in the Avocado and serve chilled.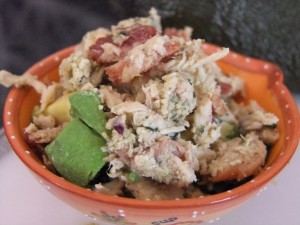 This was a great recipe to trim back my giant Basil plant. Did you know that Cilantro and herbs in general are a high source of iron and they help remove heavy metals and iron from your body? They can cleanse your liver and they are high in Vitamin C, Oleic Acid and Linoleic acid. Eating more herbs can prevents UTI, Inflammation, gas and bacterial infections. this is what Yuri Elkaim taught me about herbs during the Real food Summit by Underground Wellness. Eat more Herbs!