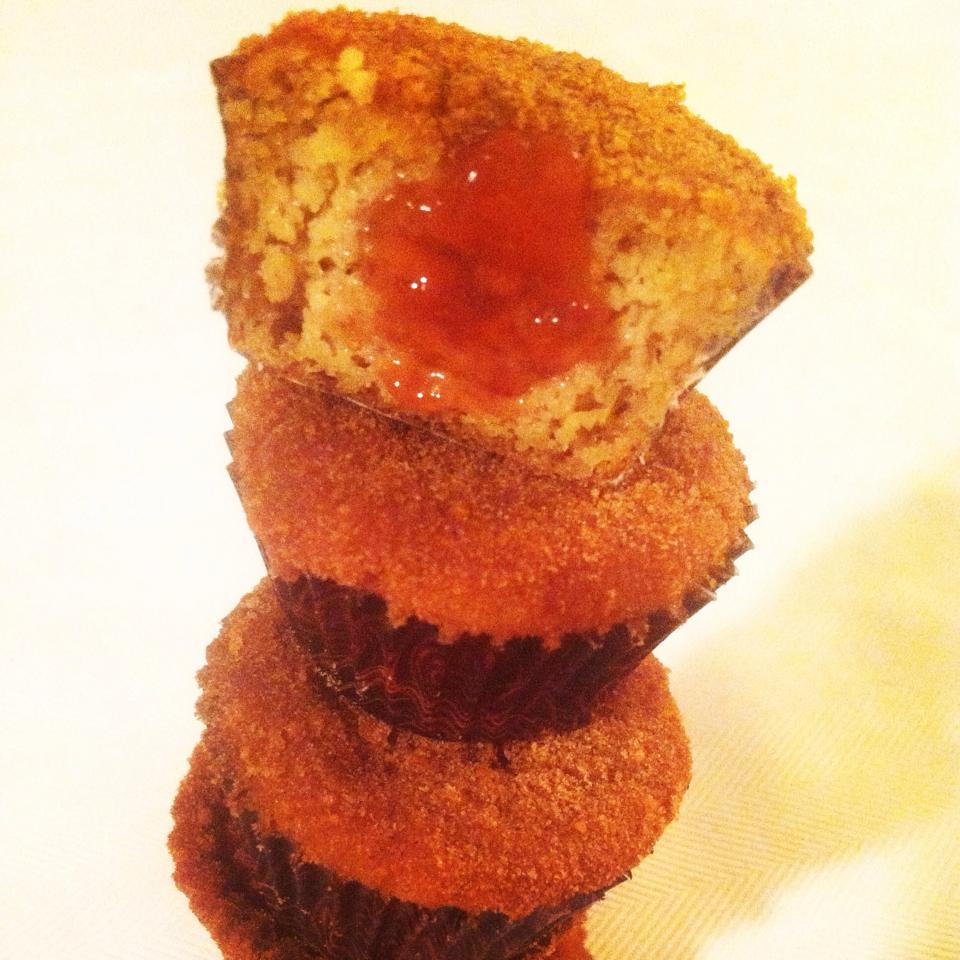 Growing up, one of my favorite things to do was to go to work with my dad and we would get Dunkin' Donuts sometimes and I always loved getting Jelly donuts just like him. While I've cut out my Jelly donut intake, that doesn't mean I don't still crave it (especially now that I am pregnant)! Why is it that you crave childhood foods when you are pregnant?? If I ask for a strawberry Pop-tart with icing…Just say NO!!!
These muffins are great with the Jelly but they are also delicious with just the cinnamon Sugar. They Jelly is totally optional!
Jelly Donut Muffins
Dough Ingredients:
1 Cup Almond Flour
1 TBSP. Coconut Flour
1 tsp. Baking Powder
1/4 Cup Butter, melted
1/2 Cup Coconut Sugar
3/4 tsp. Nutmeg
1/2 Cup Almond Milk
2 Eggs
Filling and Topping:
1/2 Cup Jelly, flavor of your choice. I like Strawberry or Raspberry
2TBSP. Melted Butter
1/4 Cup Coconut Sugar
1/2 tsp. Cinnamon
Process:
Preheat oven to 375 degrees.
Line a mini muffin pan with liners and spray them with a coconut oil to prevent sticking. (These make great large muffins too)
In a small bowl, Combine Flours and Baking Powder in a bowl and whisk together well, set aside.
In a separate large bowl, combine melted butter, sugar and nutmeg. Whisk together.
Add Almond Milk to the butter mixture and whisk.
Slowly add flour to the butter mixture and stir with a spoon until it is well blended.
Add Eggs, one at a time, and mix well.
Fill each muffin cup 3/4 of the way up.
Bake mini muffins for 10-12 minutes or Large muffins for 17-20 minutes.  Muffins should be lightly golden on top. Insert a toothpick to make sure center is cooked through.
Remove muffins and place them on a cooling rack for about 10 minutes.
Prepare topping: Melt butter in a bowl and in a separate bowl combine the cinnamon and sugar mixture.
*If making Jelly filled- use a piping bag and a thin round tip, I used a number 7 round tip, to fill the center. Press tip into top of muffin and squeeze jelly into muffin. About a 1/4 tsp per mini muffin. The jelly will pop out of the top when it is filled so squeeze lightly until you think it is ready.
Brush the tops of each muffin with melted butter and dip the muffin top into the cinnamon sugar mixture until well coated.