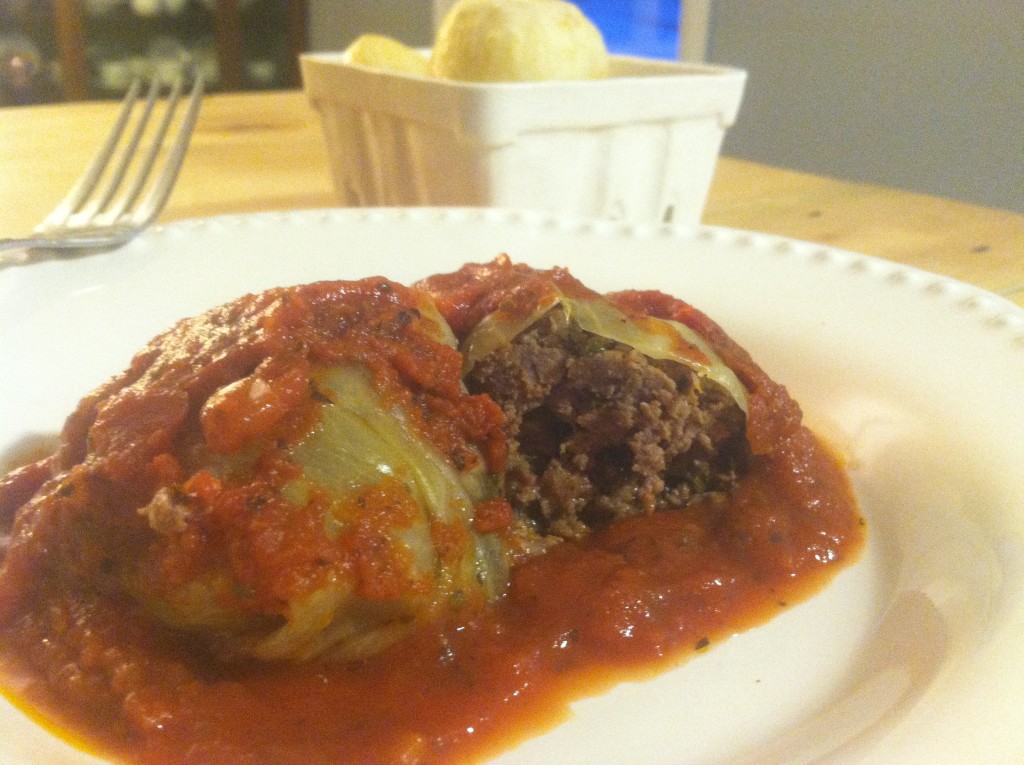 Italian Style Cabbage Rolls with Ground Venison.
Ingredients:
1 lb. Venison (or ground meat of your choice)
5- 6 Cabbage Leaves
1/2 C. Kale
1/2 tsp. Fresh Rosemary
2 Cloves Garlic, minced
1 Tbsp. Olive Oil
1 tsp. Sea Salt
1/2 tsp. Fresh Oregano, minced
2 C. Pasta Sauce
Salt Water for Boiling Cabbage
Process:
Grease an 8×8 baking dish
Preheat oven to 350 degrees
Remove the stem of the cabbage and gently remove the layers of leaves- If they are hard to remove without breaking, boil the whole cabbage for 2 minutes to help loosen the leaves.
Set cabbage leaves aside
In a skillet, on medium heat, sautee garlic, Kale and Rosemary for about 4 minutes, until Kale is soft. Remove and set aside to let it cool
Bring a large pot of salt water to a boil. Add Cabbage leaves and boil 5-7 minutes, until leaves are soft
Remove leaves and pat dry with a paper towel, set aside
Chop Kale, Garlic and Rosemary mixture finely
In a Bowl, combine Venison, Salt, Oregano, 1/2 C. Pasta Sauce and Kale mixture. I like to use my hands to be sure it is combined well
Lay out your cabbage leaves so that the end of the stem is facing up at you. Take 1/3 C. of the Venison mixture and place it in the leaf.
Roll the top of the leaf over the mixture and then the sides and roll gently and tight.
Place the cabbage rolls in the prepared baking tray close together and top with the left over Pasta sauce.
Cover with tin foil and bake at 350 for 50 minutes.
Serve with your favorite sides or check out this quick and easy Brazilian Cheese Bread recipe.