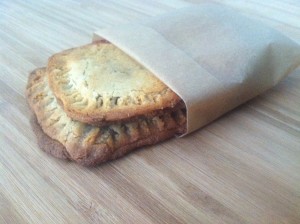 Ever miss pop-tarts or those fancy little Nutri- Grain bars now that you are eating healthy? I  missed the convenience of grabbing something quick in the morning. I never missed pop-tarts until I got pregnant and now- preggo CRAVING HOLY COW!! Here is my simple fix to my craving and keeping it healthy and Paleo. *Egg Free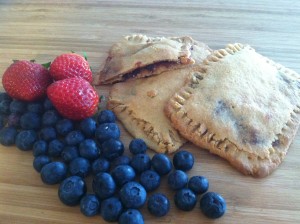 On- The- Go Fruit Bars
Ingredients:
1 C. Almond Flour
2 Tbsp. Coconut Flour
1/2 tsp. Sea Salt
1/3 C. Maple Syrup
4 Tbsp. Cold Butter
1 C. Jam of your choice, we use my Strawberry, blueberry or Mixed Berry (just combine both jams)  freezer jam recipe.
Process:
Combine Flours, salt and syrup in a bowl and mix with a blender.
Add butter a Tbsp. at a time and mix with a blender.
Place batter in the fridge for 20-30 minutes, the longer you put it in the fridge, the easier the dough is to work with.
Preheat oven to 375 degrees.
Line a cookie sheet with Parchment paper or a silpat
Scoop 1 Tbsp of dough onto the cookie tray and pat it into 2 1/2″ x 3 1/2″ rectangles. (Don't pat the dough too thin or the jam will leak through.) You will need 2 pastries per bar. You should be able to get about 6 on-the- go bars per batch.
Bake the pastries for 5 minutes, should be slightly yellow/ golden but not browned.
Let them cool for two minutes and then place 1/2 Tbsp. of jam on one side of the bar. Leave room on the edges of the pastry so that you can press the two pastries together.
Place the other side of the pastry on top of the jam and press it firmly with a fork.  (This process is very fragile, I use a large spatula to loosen the pastry and then I fold the silpat over top of the jam pastry.)
Bake the bars for 2 minutes and then flip them and bake for 2 more minutes.
Let them cool on a wire rack for 10 minutes.
You can wrap them in parchment paper or store them in a tightly sealed container for  3-4 days. These are great for breakfast and on the go snacks.
Step 6 visual: