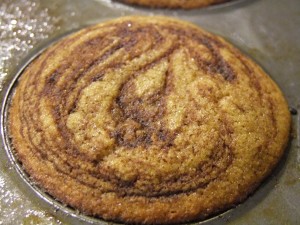 Here is a swirly treat packed full of delicious flavor and good for you ingredients. What a great way to start a morning. I make these for breakfast on the go and they are very filling.
Perfectly Paleo Pumpkin Swirl Cakes
1 1/2 C. Almond Flour

1/2 C Coconut Flour

1/2 tsp Baking Powder

1/2 tsp Salt

1 tsp Cinnamon

1 tsp. Pumpkin Pie spice

7 ounces Pumpkin Puree

2 Eggs

1/3 cup Honey

1 tsp Vanilla Extract

1/4 C Coconut oil, melted
Cinnamon swirl Ingredients:
1

/4 C. Honey

1/4C Coconut Oil, Melted

2 Tbs Ground Cinnamon
Preheat oven to 350
Combine all the dry ingredients in a bowl and mix.
Add Pumpkin and eggs to the dry mix and blend well.
Line a muffin pan with liners and spray with oil. (I use coconut oil)
Pour batter into muffin pan 2/3 of the way.
In a separate bowl, whisk all the ingredients.
Top each muffin with a half teaspoon of Cinnamon and use a toothpick to swirl into the batter gently.
Place the muffins in the oven 350F.
Bake for 25 minutes or until toothpick comes out clean.
Cool on a wire rack for 10 minutes, these are delicious warm!